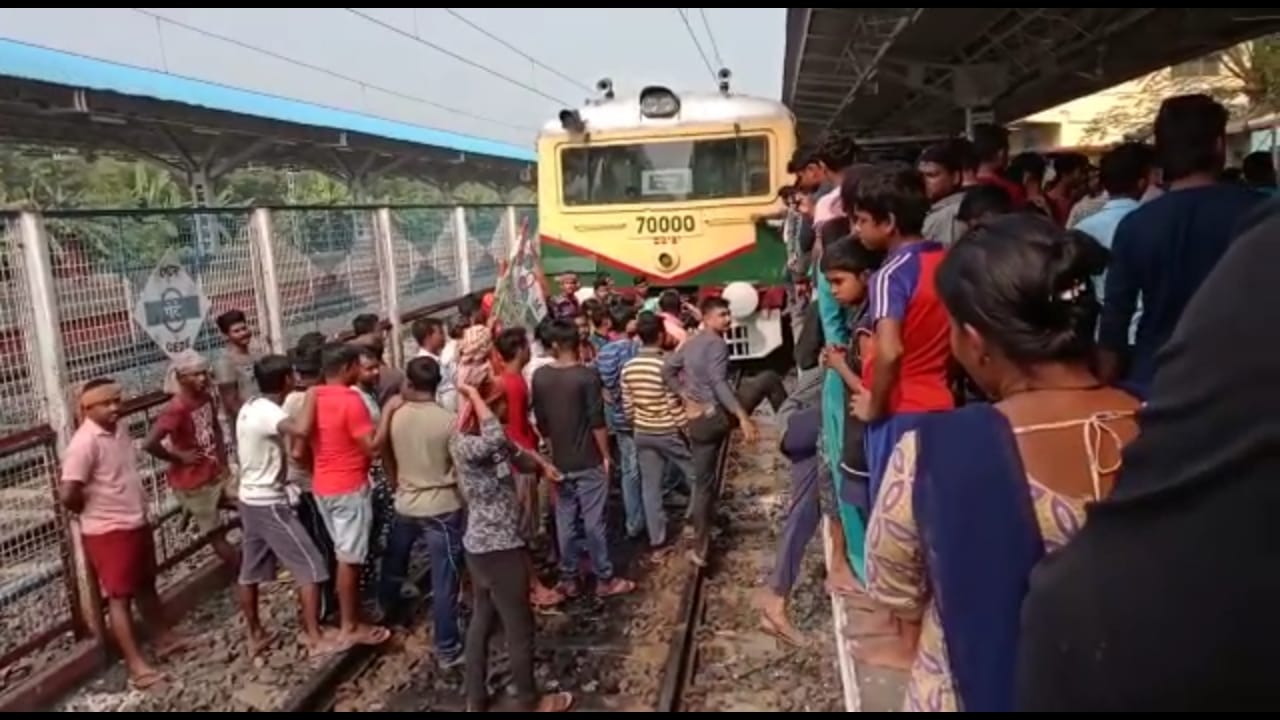 Subrata Sarkar, Sting Newz Correspondent, Gede, Nadia: The International Gede Rail Station in Nadia had turned unrest when a personnel of RPF detained a B.A student and bet up allegedly for not having ticket. It happened on Friday afternoon. When his relatives went to know the reason of detaining him as they demanded he was holding ticket, the RPF detained them too. Knowing it, the locals rushed and demonstrated before the room of RPF. Side by side, they blocked the down Gede-Sealdah local at around 11.47 a.m. The agitation continued for about an hour. It allegedly put the foreigners in problems.
The locals were angry over a particular Hindi speaking RPF personnel as he has allegedly been misbehaving with the passengers and locals unnecessarily since last few days. That very RPF blocked the student on Friday.
However, the agitators demanded his transfer and lodged a GD with GRP at Gede Station.
One B.A student Shubhankar Biswas (18) of Gede was going to Gede station to go to have tuition at Majdia on Friday. Before entering platform, a known local person handed him over a train ticket and requested to deliver it to a lady, waiting in down Gede local.
When he reached to the lady, found an altercation was going on between the lady and an RPF personnel for lack of ticket. However, Shubhankar handed the ticket over to her. Then the RPF caught him allegedly for hand over the ticket to the lady, his father Jagadish Biswas said.
According to him, Shubhankar was holding his ticket. He also raised the question how a RPF can check the ticket.
However RPF took Shubhankar  to their office and allegedly bet up. His relatives went to know the reason and to rescue him. RPF blocked them too in room and assaulted them. The locals alleged that a particular RPF personnel often assaults people.
Knowing the above, the local people rushed.
One Mithun Biswas said, " That Hindi speaking RPF personal has been disturbing locals unnecessarily since last few days. The people of that locality were angry over him. So they rushed and subsequently blocked the train route at Gede station."
It continued for an hour from 11. 47 am. As a result, the down Gede local could not run in time. As it is an international station, some foreigners were stranded too.
However, about hundreds of people were in the agitation of blocked. Some agitators were also seen to hold TMC flag before the train.
The guardian of Shubhankar said," the RPF released Shubhankar and his relatives after taking an undertaking so that they remain save from future problems against their flaws on Friday ."
On the other hand, the agitators lodged a General diary with GRP against the personnel mentioned, and demand his  his transfer.
Getting an assurance, they lifted their movement.
However, no comments were available from RPF regarding this incident.