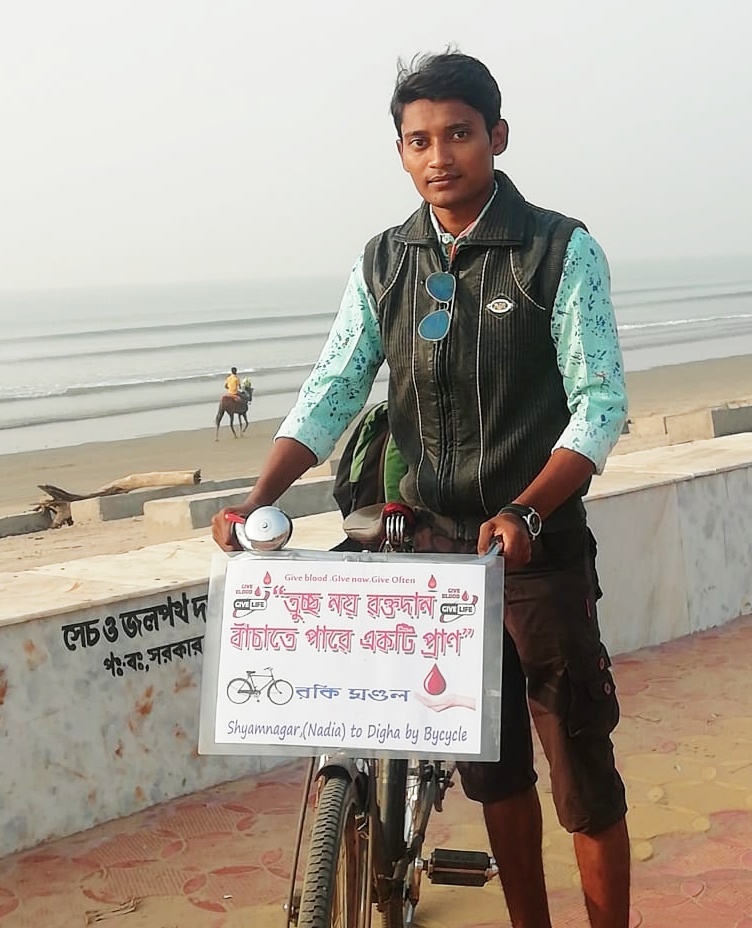 Partha Das Boiragya, Sting Newz Correspondent, Tehatta

(Nadia)

:

Small but noble effort. Rocky Mondal (24) of Tehatta Shyamnagar in Nadia, an honours graduate, had started his journey of campaign on cycle from Tehatta to Digha on November 20 with a view to encourage people for the

"

N

eed of blood donation' and 'to aware them about the bad effect of plastic on environment'. He spreaded his views, en-route and reached Digha on Friday.
His cycle was carrying the placards of the slogans regarding the said issues.
Rocky said, "I managed the expenses for my expedition from tuition. During the journey of 390 km., I stopped many where and told people about the said issues of awareness, that are, the need of more blood and bad side of plastic on environment."
He crossed the places like Krishnanagar, Shantipur, Kalyani, Barrackpore, Konnagar, Bali, Kolaghat, Tomluk, Mecheda etcetera and reached Digha on Friday.
During cycling all along the route and around old and New Digha and Mohona, he spreaded his views. "Still there is need of more blood and that is why I encourage people through my cycle rally," Rocky said.
He iterated that the plastic was also very bad for our environment. So he was intended to aware people about its use. " The use of plastic in our daily life has been pushing the globe to a danger
ous
day. That is why, not sitting in room, I came out on road to make people aware about it. I have received warm welcome from people of various places and it encourage me for the effort," Rocky added.
He has started to back from Digha on Saturday. He said over phone that he would reach home in Tehatta on Sunday via Dharmatala, Sealdah and many other places with his noble work of awareness campaign regarding the said issues.